The Symphony Music Shop Archive
SouthCoast Youth Jazz Orchestra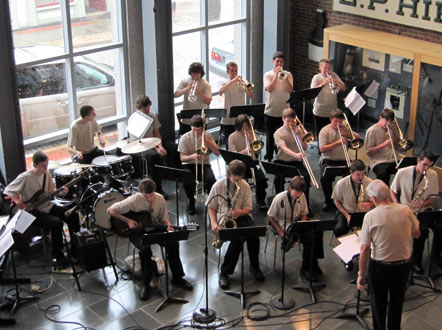 The Southcoast Youth "Festival" Jazz Orchestra was sponsored by The Symphony Music Shop and directed by Mr. Stanley Ellis (former director of the award-winning Old Rochester Regional High School Jazz ensembles).
The SYJO offered advanced high school aged jazz musicians an opportunity to meet and perform high quality jazz ensemble literature.
All students performing with the SYJO were required to be members of their school ensembles.
The SouthCoast Youth Jazz Orchestra was featured at two New Bedford area concerts in the summer of 2009.
The SYJO opened for Jazz vocalist Semenya McCord and her group at the New Bedford Whaling Museum as part of AHA New Bedford on August 13, 2009.
The SYJO opened for the newly formed Southcoast Jazz Orchestra at Shipyard Park in Mattapoisett, MA on August 15, 2009.
The HQK Jazz Jam Series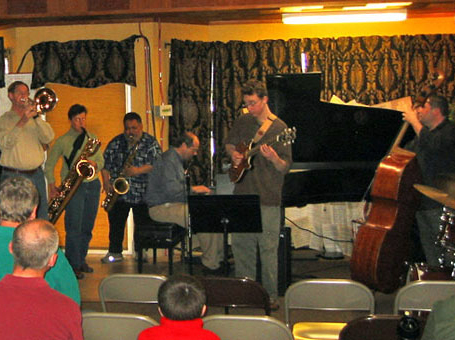 Jazz fans and jazz musicians of all levels were encouraged to take advantage of this old-fashioned style jam session.
All of the jam sessions were well attended by students, professional musicians, and jazz fans from the area.
The jam sessions allowed musicians to interact with and learn from a professional jazz trio.
This series was designed to allow jazz musicians from the area an opportunity to perform in a more relaxed setting and learn from each other in a positive setting.
Students were encouraged to bring along charts of songs that they were currently working on.
The HQK Jazz Jam Musicians
Joe "Sonny" Barbato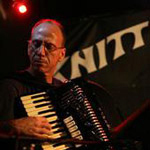 Joe "Sonny" Barbato is a pioneering voice in jazz accordion. He is one of Boston's finest musicians, which is evident on Sonny's exhilarating, charming, and fresh new release "Crackerjack." As an established sideman in New York City and Boston, "Crackerjack" represents Joe's first time out as leader. Born and raised in Boston, MA, at nine years of age Joe began taking weekly lessons with accordion master Louis Bregoli.
Sonny played the accordion until he was about thirteen years old, and then decided to begin studying the piano instead. He studied with jazz pianist Mike Marra and later attended Berklee College of Music, as well as the New England Conservatory. Joe then decided to become serious about playing the accordion again. He began to take the instrument on certain gigs and projects that called for the sound. He was beginning to find his voice on the accordion. He broadened his range of experience playing the instrument in pop, rock, country, and jazz, helping him to become diverse on the accordion and find his own sound.
Lee Fish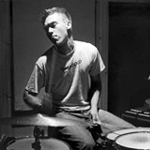 Growing up on the road with musician parents, and beginning to play drums at the age of 3 were just part of what brought Lee Fish to become one of the most highly sought after drummers at Berklee College of Music, as well as the Boston area. He currently plays in the Mike Tucker Quartet, and you can also see him perform every Friday and Saturday night at the historic Wally's Cafe with the Jason Palmer Quintet.
While at Berklee, Lee was a member of Phil Wilson's Rainbow Band and Greg Hopkins' Berklee Concert Jazz Orchestra, along with many student groups performing all around. Recently, he has done tours in Japan and Europe, and gigged with such artists as George Garzone, Hal Crook, Jason Palmer (Greg Osby), Esperanza Spaulding (Joe Lovano), David Gilmore (Wayne Shorter), Lawrence Fields (Jeff "Tain" Watts), the Kendrick Oliver New Life Jazz Orchestra, John Lockwood, Julian Lage (Gary Burton), and many more.
Greg Duncan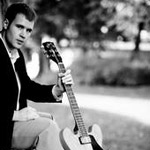 Guitarist Greg Duncan brings to the stage a unique style influenced by both traditional and contemporary jazz forms. Beginning his training on classical piano at the age of six, he turned to guitar at the age of 11. It wasn't long before Greg developed a passion for Jazz and began performing locally in his hometown in western Canada.
At the conclusion of high school, Greg was awarded a scholarship to the New England Conservatory in Boston. There, he had the privilege of studying with such renowned educators as Jerry Bergonzi, Bob Brookmeyer, George Garzone, Dave Holland, Ben Monder, Brad Shepik, and Danilo Perez.
Greg has performed at numerous concert venues, festivals, and clubs, including Montreux Jazz Festival, Tanglewood Jazz Festival, Beantown Jazz Festival, The Jazz Standard, The Jazz Gallery, 55 Bar, The Beehive, Berklee Performance Center, Jordan Hall, etc. On weekends, Greg performs at Wally's Jazz Cafe in Boston with the Jason Palmer Group. He recently was a finalist in the 2009 Gibson Montreux Jazz Guitar Competition held at the Montreux Jazz Festival in Switzerland.
Greg has performed with top artists such as Jimmy Heath, Roy Hargrove, Greg Osby, Kenny Wheeler, Kendrick Scott, Sean Jones, Francisco Mela, Jeremy Pelt, Bob Brookmeyer, George Garzone, Ben Street, and Terri Lyne Carrington, to name a few.
Rod McCaulley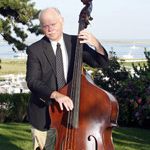 Rod McCaulley exemplifies that uncommon musician, highly proficient in both jazz and classical music. As an acoustic double bass player of exceptional ability and technique, he is in considerable demand as a performer, teacher, and educator in the communities of southeastern Massachusetts and Cape Cod. He counts among his teachers New York City based bassists Michael Moore and Jack Lesberg. In Boston, he studied electric bass with Oscar Stagnero. Rod is presently a member of the double bass section of the New Bedford Symphony Orchestra, and has appeared with the Cape Cod, Nashua, NH, and Plymouth, MA, symphony orchestras.
An accomplished pianist, he has studied with Juilliard faculty member, the late John Mehegan and Boston-based pianist Paul Schmeling. A keen and committed student, he presently studies with classical pianist Elizabeth Browne and bassist Tchavdar Natchev Peno. In addition to his work with symphony orchestras and chamber music ensembles, Rod has appeared with some of New York's best known and prestigious jazz musicians, including singer Maxine Sullivan, drummer Bobby Rosengarden, guitarist Vic Juris, and pianist Walter Bishop Jr., as well as such instrumentalists as Bob Wilber, Randy Johnson, Max Kaminsky, and Bob Mover.
An active member of the Cape Cod musical scene since the early 1980's, Rod became a full-time resident in 1991. He has kept a busy schedule of free-lance appearances on the Cape with such musicians as the late cornet / trumpet player Ruby Braff, guitarists Jon Wheatley and Gray Sargent, trumpeter and educator Herb Pomeroy, and pioneering alto saxophonist Lee Konitz. His big band work includes a stint with the Artie Shaw Orchestra. As a dedicated teacher, Rod is committed to handing down the Jazz tradition as well as teaching bass, piano, music theory, and improvisation at his studio in the mid-Cape. Rod leads the Cape Cod Jazz Society's youth jazz ensemble. A significant number of these students have gone on to major in jazz programs at some of this country's most eminent music schools.
Mike LaVoie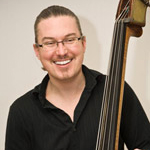 Mike is a New Bedford resident and career musician. He has performed regionally at countless festivals and enjoyed a wide variety of live performances. His natural skill in various styles of music, on both electric and acoustic bass, has helped him become a widely sought session / studio musician, freelance bassist, and private instructor.
As an active educator, he has been involved with the Berklee School of Music's "Summer Guitar Sessions" and numerous clinics on the high school and college levels. His general knowledge in his field has prompted his being sought for contribution on articles for publication and on instrument manufacturing.
As the "first call" bass player, Mike has been a part of the Boston Swing family for several years. He has performed at private engagements and public concerts in some of our country's most notable rooms, recording with countless emerging and well-known musicians, and brings an unrivaled level of musicianship to the band.
Put simply, Mike's a "bass enthusiast" (to say the least). He is currently constructing innovative instruments and designs for retail instruments. He is also the resident instructor and Bass Repair Specialist at The Symphony Music Shop in North Dartmouth, MA.
Andy McWain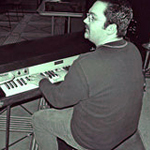 Andy McWain is Assistant Chair of the Music Department, and a full-time lecturer in jazz studies, jazz piano, and theory. As an improvising pianist / keyboardist, he has performed and / or recorded with such artists as Joe Giardullo, Karl Berger, Assif Tsahar, Tiger Okoshi, Santi Debriano, Brian Melvin, Daniel Levin, Tatsuya Nakatani, John Dirac, Jorrit Dijkstra, Albey Balgochian, Laurence Cook, Dino Govoni, Luther Gray, Jim Robitaille, Brooke Sofferman, Bruno Raberg, Reuben Radding, Dennis Warren's Full Metal Revolutionary Jazz Ensemble, the Artie Shaw Orchestra (led by Dick Johnson), and the Zen Bastards, among others.
McWain has received fellowships, residencies, and additional training at the Atlantic Center for the Arts in Florida (with Butch Morris), Kurszentrum Langnau im Emmental in Switzerland, the Akiyoshidai International Art Village in Japan, the Wellesley Composers Conference in Massachusetts, June in Buffalo, New York, Music '98 Festival-Workshop in Ohio, and Yaddo in New York. His honors and awards include those from the American Music Center, Meet the Composer / New England, the American Composers Forum / Boston Chapter, the Sotiroes Vlahopoulos Competition, Britten-on-the-Bay Composers Competition, the Massachusetts Cultural Council, and the Helen E. Ellis Trust. He served as resident composer (1997-98, 2000) to the New Bedford Symphony Orchestra, writing a number of works including Symphony of Just Words, commissioned by the NBSO, a local arts consortium, and the AT&T Foundation. In 2004, he founded and produced the Audible Think Improvised Music Series in New Bedford, Massachusetts.
Lonnie Gasperini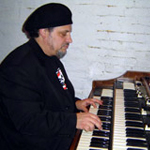 Lonnie Gasperini, a soulful jazz organist from the state of Rhode Island, has recently moved to New York City where he continues to take his passion for organ jazz to another level.
Part of his history includes opening for or performing with artists such as Lou Rawls, Hal Crook, Joe Lovano, Joe Lee Wilson, Percy Sledge, Dr. Lonnie Smith, George Benson, Melvin Sparks, Al Street, Ron Alif, Jimmy McGriff, Jack McDuff, Seleno Clarke, Nate Lucas, Rueben Wilson, Eddie Landsberg, Don Williams, Wyton Marsalis, Diane Reeves, Max Lucas, Herbie King, Harold Jones, John Badessa, Tootsie Bean, Patience Higgins, Jerry Weldon, Rick Britto, Greg Abate, Jim Rotondi, Peter Bernstein, Jim Robittaile, Wyton Marsalis, Chris Botti, Thurman Barker, Joe Farnsworth, Fukushi Tainaka, John Chiodini, Randy Caldwell, Billy Osborne, Lavern Sims, Semenya McCord, Juanita Dixon, Renuad Penant, Taro Kamura, Masami Ishikawa, Pete Calo, Nat Harris, Joe Friedman, John Weber, Joe Ferguson, Pete Farmer, Jesse Jones, Bill Thompson, Arnie Cheatham, Art Hazard, Willie Love, Bill Lowe, Danny Draher, and many others.
Koby C. Williamson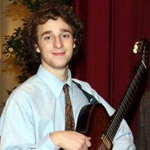 Koby C. Williamson is a recent graduate of Old Rochester Regional High in Mattapoisett, MA, where he was a member of the award winning jazz ensemble, numerous jazz combos, concert band (trumpet), and Theatre Department from 2007-2010. He has studied guitar with Jon Damian, Jim Robitaille, Stan Belmarce, and George Piva. Workshops and master classes have included sessions with Pat Martino, Kurt Rosenwinkel, Pat Metheny, and Peter Mazza. Honors have included the National Merit Scholarship, the Berklee Jazz Festival - Jazz Combo & Overall Outstanding Musician, the Massachusetts I.A.J.E. MVP & Outstanding Musician, and the 2010 Southeastern District and All-State Jazz Ensembles.
A talented composer, arranger, and performer, Koby will be attending The New School for Jazz and Contemporary Music in New York City beginning this fall. He is currently a member of the Lucidity Jazz Trio and The Southcoast Jazz Orchestra. He has performed extensively throughout the Massachusetts area for numerous community, charitable, & civic groups at fundraisers, concerts, & events. Koby has also performed in numerous dramatic and musical productions, including a national tour of "Oliver!" in 2003 and 2004.
Mack Williamson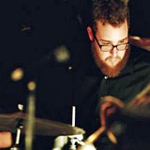 Mack Williamson is currently a student at The New School for Jazz and Contemporary Music '12, and is quickly becoming an in-demand performer in the NYC Jazz community. Mack has played with many varied ensembles, theater, & classical orchestras, small groups, & big bands. He performed with the South-East District Jazz Band four years in a row, and the Massachusetts All-State Jazz Band. He has also performed extensively throughout the Massachusetts area for numerous community, charitable, & civic groups at fundraisers, concerts, & events.
Mack has received numerous awards from IAJE, MAJE (Herb Pomeroy award), Berklee College of Music, and UNH / Clark Terry Jazz Festival. Mack has studied with Herb King, Neil Sylvia, & Bob Gullotti, as well as several summers at KOSA percussion workshops. He is currently studying with Amir Ziv, and has enjoyed ensemble & composition coaching with Lee Ann Ledgerwood, Reggie Workman, & Jordan McLean.
Jake Sherman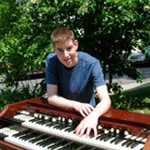 Jake Sherman was playing music before he could tie his shoes. After a misguided stint as a 4-year-old cellist, he began taking Suzuki piano lessons, which helped develop his now exceptional ear. Around the age of nine, he fell in love with ragtime, learning many Scott Joplin classics, and even composing some original "rags." It wasn't until Jake was twelve years old that he began studying jazz piano. He learned very quickly, and was soon playing in ensembles. At age fourteen, Jake discovered the Hammond organ. He received his first Hammond from the Brookline Music School, and taught himself how to play it by reading countless posts on Hammond organ listservs and websites.
Jake has moved into the top tier of young jazz artists in the Boston area. He was recently selected to play at the International Association for Jazz Education (IAJE) as part of the NFAA YOUNGarts program, and at the Grammy Awards as part of the Gibson / Baldwin High School Jazz Ensembles program. He has performed at such renowned venues as Carnegie Hall, the Regattabar, the Berklee Performance Center, and the Lily Pad. He has studied with acclaimed jazz musicians such as Gerard D'angelo, Dave Zoffer, Doug Johnson, Dan Loschen, and Dr. Lonnie Smith.
royal hartigan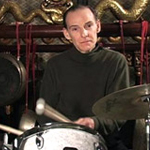 royal hartigan is a percussionist, pianist, and tap dancer who has studied and performed the musics of Asia, Africa, Europe, West Asia, and the Americas.
His repertoire includes indigenous West African drumming, dance, song, and highlife; Turkish bendir frame drum; Japanese taiko drumming; Philippine kulintang gong and drum ensembles; Chinese Beijing, Cantonese, and Kunqu opera percussion; South Indian solkattu rhythms; Korean pungmul drum and gong ensemble; Javanese and Sumatran gamelan; Gaelic bodhran; Native American drumming; Dominican merengue; Brazilian samba; Cambodian sampho drums; Vietnamese clapper percussion; European symphony; and African-American blues, gospel, funk, hip-hop, and jazz traditions.
Bruce Gertz
Bruce is an acoustic and electric bass player and composer, born in Providence, Rhode Island. Bruce Gertz began playing guitar at the age of ten. By age fourteen, he changed to the bass guitar and started playing rock, blues, and later jazz.
While attending Berklee College of Music in Boston as a composition and arranging major, Bruce studied acoustic bass under John Neves and William Curtis. He began freelancing in the Boston area, and soon built a reputation as a versatile player and soloist on both acoustic and electric bass. Gertz became associated with Bill Frisell, Mick Goodrick, Mike Stern, George Garzone, Jerry Bergonzi, and other top players in Boston through time.
Later, Bruce studied more advanced jazz improvisation with Charlie Banacos, and also through association with Jerry Bergonzi. Bruce has also toured with Billy Eckstine, Maynard Ferguson, Marlena Shaw, Gary Burton, Dave Brubeck, Jerry Bergonzi, and others. Bruce has been a professor at Berklee College of Music, Boston, MA, since 1976.
Yoron Israel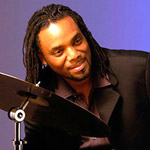 Yoron Israel, a native Chicagoan, is one of the most gifted and sought after musicians in the music industry today.
Yoron's exciting and tasteful drumming, along with his compositional talents, are spotlighted throughout his CDs – "Basic Traneing" (Ronja Music Company), "Chicago" (Double Time), "Live at the Blue Note" (Half Note), and "A Gift for You" (Ronja Music Company).
All of these fine works have received enthusiastic praise from journalists, musical peers, and fans alike.
Chris Poudrier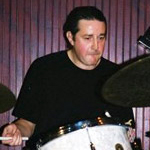 Brockton born drummer Chris Poudrier has had an eclectic career spanning thirty years. Not limited or bound to a specific genre, his talent, passion, dedication, and musicality afford him the luxury to play all styles at a very convincing and inspiring level. The following list of international, national, and regional artists he has worked with include Dave Liebman, Clyde Criner, Assif Tsahar, Santi Debriano, Billy Preston, and Shawnn Monteiro.
Poudrier graduated from UMASS Amherst in 1981 with a Bachelor's Degree in Music Education, Cum Laude. There, he performed many classical pieces on marimba, including a high profile concert for the M.E.N.C. Conference in Miami, as well as performing George Crumb's "Ancient Voices of Children" with Pro Music Moderna under the direction of Dr. Charles Fussell. Former teachers include Bob Moses, Adam Nussbaum, John Ramsay, Keith Copeland, and Fred Buda. Poudrier's prowess also extends beyond the drumming world. He is an active composer, an avid student of the Irish Uilleann Pipes, and a skilled Bodhran player.
Jim Gwin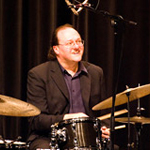 Jim Gwin is currently the drummer for the Boston Pops Orchestra, in addition to performing with numerous jazz artists throughout New England, the United States, as well as internationally.
Greg Conroy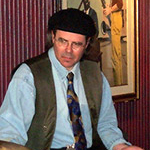 Greg Conroy holds a Master of Music degree from the New England Conservatory of Music, where he studied with Thomas McKinley, George Russell, Jimmy Giufree, Ran Blake, Fred Buda, and Bob Moses. Greg also studied with legendary drum master Alan Dawson.
Greg teaches at both Bridgewater State College and Bristol Community College, and is in high demand as one of the area's finest drummers.
Greg has performed and recorded with the London Symphony Orchestra, Clark Terry, Bob Mintzer, Milt Hinton, Bob Wilbur, Cecil McBee, George Garzone, John Lockwood, Peter Kontrimas, Phil Grenadier, Greg Abate, Larry Goldings, and David "Fathead" Newman.
Bob Gullotti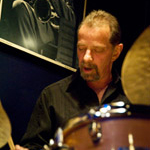 Bob Gullotti is an experienced performer and teacher with a highly successful background as a professional musician, gaining acclaim both in the U.S. and abroad for unique creativity, interpretive technique, and technical performance quality. His experience includes tours of Europe, South America, Australia, Canada, the Middle East, and the United States, with his own band and with such well-known artists as Gary Bartz and Eddie Henderson.
Bob has performed with such jazz notables as J.J. Johnson, John Abercrombie, George Mraz, Joe Lovano, Kenny Werner, Eddie Gomez, Tom Harrell, Mike Mainieri, Mose Allison, John Medeski, John Patitucci, Bob Brookmeyer, and Miroslav Vitous. Bob performed with the rock group Phish. His band, The Fringe, is a four-time recipient of the Boston Music Awards #1 Jazz Act Award. He has over fifty recordings to his credit, and currently, his band has a multi-record release contract with Soul Note Records, one of the top jazz labels in the world.
Bob also has an extensive teaching background, and is recognized as one of New England's top private teachers with many working professional students. He is on the faculty of the University of Massachusetts, and teaches percussion to music majors at other area colleges and universities. Bob has presented lectures and classes at such schools as Dartmouth College, Harvard University, New York University, Pennsylvania State University, Adelaide Conservatory in Australia, Bogota University in South America, and Ramon School of Jazz in Israel.
He was asked by the French Government to help organize and operate the "Jazz is Toulon" jazz camp, and has lectured and taught at the Switzerland Jazz Workshop. At New York University, he was the percussionist instructor for the National Young Audiences concert series under grants from the National Endowment of the Arts.
Gary Johnson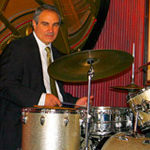 Drummer Gary Johnson has been keeping time for 37 years with, among others, Scott Hamilton, Dave McKenna, Ken Peplowski, Keely Smith and the Nelson Riddle Orchestra.
For four years, he traveled extensively with the Artie Shaw Orchestra under the direction of Dick Johnson. While touring, he accompanied artists such as Buddy DeFranco, Dizzy Gillespie, Rosemary Clooney, Frankie Laine, Helen Forest, Connie Haines, and Ruby Braff.
Currently, Gary freelances in the New England area, including playing every month with The Ray Santisi Trio at Ryles Jazz Club.
Johnson studied with Bill Flanagan, Fred Buda of the Boston Pops, and Alan Dawson. He attended the Berklee College of Music.
Matt Richard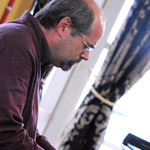 Matt studied classical piano with the late Ken Manzer, and jazz piano with Dr. Billy Taylor.
Workshops and performance master classes included jazz legends Max Roach, Marian McPartland, and Michael Brecker.
He has performed throughout the New England area for the past thirty years as a soloist, an accompanist, and with many different ensembles, including jazz vocal legend Sheila Jordan, Dick Johnson and The Artie Shaw Orchestra, Bombay Jim Porcella, and Lou Columbo.
Dave Zinno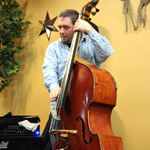 Dave currently teaches bass at Brown University and The University of Rhode Island.
He is one of the most sought after acoustic bass players in the area, performing throughout the northeast.
International tours have included performances with John Medeski, Jimmy Cobb, Junior Cook, and Hal Crook.
Joe Amaral
Joe has taught instrumental music in the New Bedford public school system for many years. A student of jazz legend Alan Dawson, Joe has a degree in music from Westfield State College, where he performed in the Jazz Ensemble and Wind Philharmonic.
Other notable Jazz Jam musicians include:
George Russell Jr.
Tom Pasquarelli
Rick Costa
Chris Taylor
Sign Up For Our Email Newsletter
Enter your email address below, and click "Subscribe." Your email address will be kept secure.

What's Happening On Facebook